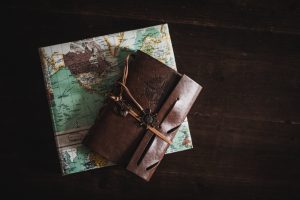 By Alison Feinauer
You know how it feels when you've lost something and you think it's gone forever?
About a year ago, I got my nose pierced and purchased a few little 14K diamond studs for it. On two different occasions, my shower towel got caught on it and pulled it out. I searched high and low for them but could not find them. I was bummed and frustrated. I thought maybe it was time for me to take my nose piercing out. I said to God, "If you don't want me to have this, let me know, and I'll give it up for you." I loved having it pierced but wondered if it was not what He wanted. I kept it in and moved on. I didn't feel that He was asking me to take it out at the time, but was glad that my heart had come to a place of surrender.
For 2 months after I lost my piercings, I went through a journey with the Lord of really surrendering. I felt desperate for something more and disappointed in myself for giving into temptations and trying to handle life on my own. I was trying to keep up the image that I had it altogether, but when I got alone, I was a huge pile of brokenness.
During this time, I thought maybe He had forgotten me, just like I had forgotten about losing my piercings. After my shower one morning, I looked down at the rug and saw a sparkle. I bent over and saw it, my diamond stud. I couldn't believe my eyes. I had combed through that rug and did not find it 2 months before. It appeared when I wasn't even looking. The next day in the shower, I looked down by the drain and found the other one. Three people had been showering in there for the past 2 months every day. I was blown away. Within a 24 hour period, I found both.
Crying, I felt the Lord say to me, "I'm giving you treasures. As you surrender, I have treasures I'm doing in you. You won't see them or understand them until you're ready:
• The treasure of understanding how much He loves me and that he has chosen me.
• The treasure that He was teaching me that He hadn't forgotten about me.
• The treasure that even in my struggles and suffering, He was present and refining me. (He often does things in the Physical to reflect what's happening in the Spiritual.)
He exposes treasures that He put in our souls when He formed us in our mothers' wombs, when we allowed Him to comfort, to be our strength when we're weak, to be our hiding place when we're afraid or ashamed. Our Father goes deep to the root of our hearts and does some refining and sometimes painful work, but then He exposes the beauty that He created inside us. Let Him. Let Him go there. He will redeem what we think is gone forever. His treasure is IN you!
Are you disappointed or feeling forgotten? Are things falling apart around you? Is there something you think is gone forever? Ask Him to remind you of the work He is doing. He will never leave you nor forsake you. You are His treasure, His chosen little one.
"Be strong and courageous. Do not be afraid or terrified because of them, for the Lord your God goes with you; he will never leave you nor forsake you" (Deuteronomy 31:6).
The Lord will perfect that which concerns me; Your mercy, O Lord, endures forever; Do not forsake the works of Your hands (Psalm 138:8).
For God, who said, "Let light shine out of darkness," made his light shine in our hearts to give us the light of the knowledge of God's glory displayed in the face of Christ. But we have this treasure in jars of clay to show that this all-surpassing power is from God and not from us. We are hard pressed on every side, but not crushed; perplexed, but not in despair; persecuted, but not abandoned; struck down, but not destroyed. We always carry around in our body the death of Jesus, so that the life of Jesus may also be revealed in our body. For we who are alive are always being given over to death for Jesus' sake, so that his life may also be revealed in our mortal body. So then, death is at work in us, but life is at work in you (2 Corinthians 4:6-12).