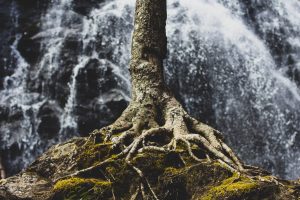 By Alison Feinauer
I wake up; it's a fresh new day – a fresh start.  His mercies are new every single morning.  So I have my plan and goals. I will:
not eat sugar
drink all my water
not get on the scale
eat every 3 hours
make sure I have enough protein
exercise 5 times this week
write 3 gratitudes a day
listen to worship
be kind to my husband
pray more than once today
not yell at my kids
get the house picked up
make it to work on time… and on and on.
Sound familiar?
God has not given us the spirit of fear, but of love, power, and self-control   
This is on repeat in my head.  I know this verse. It's my anthem. I can do hard things. I can say no. I can be strong. I can do all these things today on my check list…. Until around 2 PM, when I've walked by the​ ​Chicago popcorn​ ​in the staff kitchen 5 times and said no.​ ​Just a​ ​little​ ​bowl of it. I'm tired. I can't drink all this water; I'm feeling bloated. I haven't hit 10,000 steps because I've been sitting in a chair all day. What a day. I'm exhausted. Tomorrow will be better. His mercies are new every morning.
But​ ​then I remember my anthem. ​God promises self-control. Somehow I've missed it. I don't have self-control. It sounds like a dream to me – a promise that's untrue.  I just need more self-effort.  That's it. It will match His self-control.  But then I fail again. Why can't I change my behavior?
That's it – self effort.  I've been doing all of this in my own strength and my own will.  But I'm not sure how to​ ​change this.
This all reminded me of a teaching I heard last week about parenting.  It was explained that children ​​are like trees. They have a root system. The trunk is their self-worth and identity. The branches are their behaviors.  We, as parents, want to change the behaviors of our kids. Why are they acting this way?  Stop doing that. Just stop!  But what we really need to look at is the roots, their beliefs.  If we shape that, then we change their identity, then we change their behaviors.
The same is true for us. If we believe that what God wants is for us to stop sinning, dieting, binging/purging, emotional eating, or whatever your vice is, we've got it all WRONG.  God wants to change our roots, our beliefs, and then​ ​He​ ​will change our identity. And that will​ ​change our behaviors.​ ​I've had it all backwards.
So how do I do this?​ ​What does this look like?
Maybe something like this:
When I'm displaying this behavior or tempted to, I stop.  I pray, God, I'm feeling really sad right now. I feel really alone and I'm disappointed.  I've yelled at my son. My husband has been distant and won't share with me why he's so irritable. I feel so alone at work. I know I didn't say the right things in that meeting today. I'm tired. 
God responds: My Alison, this is what I want you to believe:
You are not alone: "The LORD is close to the brokenhearted and saves those who are crushed in spirit (Psalm 34:18).
You are worthy: "But God demonstrates his own love for us in this: While we were still sinners, Christ died for us" (Romans 5:8).
You are redeemed:  The Lord has swept away my offenses and sins like the morning mist.  He has redeemed me (Isaiah 44:22).
You have been chosen as my special possession: "But you are a chosen people, a royal priesthood, a holy nation, God's special possession, that you may declare the praises of him who called you out of darkness into his wonderful light" (1 Peter 2:9).
I need space and time with Him, without technology, noise, my list… I need to just sit with Him and let Him in​ ​and let myself feel, let my guard down and take refuge.  I can trust Him. He's a Good Dad.
Will you do that? Will you take some time to be open and honest about those feelings that you are trying to escape? Will you talk to Him? Will you allow Him to speak some truth to you today? Will you allow Him space and permission to change your root system.
Father, I want so badly for my identity to be rooted in You.  I know it's a process and it takes time. Help me be gentle and patient with myself.  Help me to slow down and not be afraid to feel.  Please take away my fears, and give me a spirit of love, power, and self-control.  However, whenever, and whatever you have to do, I surrender. I'm yours. Amen