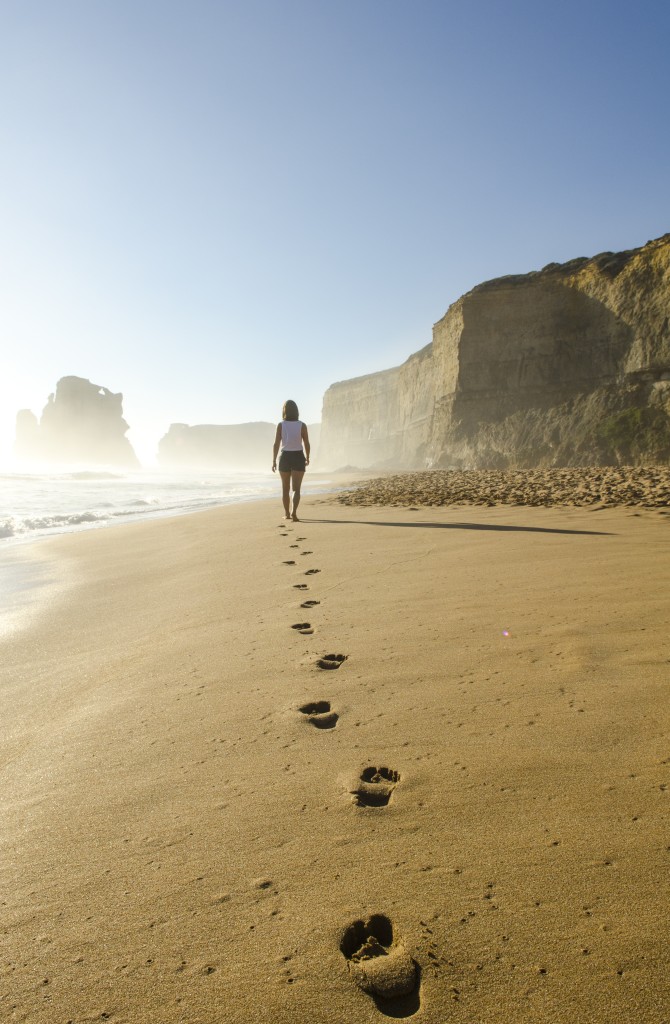 What you are about to read is one woman's recovery journey up close, personal, and in real time. Rhonda Stinson, my longtime friend and sister in Christ, has been battling an eating disorder for a very long time. She is ready to be free! Over the coming weeks and months, Rhonda has agreed to share her journey with us – the good, the bad, and the ugly. We pray that you are encouraged and empowered through her story.
The footprints we leave behind show clearly where we have been, but they do not dictate where we can now go. ~Ralph Martson
By Rhonda Stinson
Personal tidbits:  I have had an addiction to exercise almost as long as I've had an eating disorder. I would exercise in any kind of weather condition, in the wee morning into the dark of night, and it didn't matter how I was feeling. Any kind of breaks I had at school or work were devoted to exercise. The words "sit still" were not in my vocabulary. The very first time I can remember being hindered from practicing this addiction was due to hail and high winds. I curled up into a fetal position rocking back and forth while wailing over my loss. I was the female counterpart to Forrest Gump….walk, run, walk, run.  
Journal Entries
June 23:  Spent more time with God and cut out one mile from morning exercise. This morning I ate the whole egg instead of just the white. It was hard to do, but after I ate it, it didn't bother me a bit. Today I'm experiencing a heavy spirit of darkness and depression. I would like to just be in a place of solitude and cry all day. Before bed I cried out to God to lift this heaviness and He answered me. I usually don't check my emails after 8:00 pm, but tonight I did it at almost 10:00 pm. Rae Lynn forwarded me an inspirational message that spoke directly about what I was going through. So encouraging!
June 25:  Cut out another mile of exercise. It wasn't easy, but as I was walking I thought to myself, "Am I walking now for enjoyment or am I trying to satisfy my addiction?" At this point I knew I needed to stop. I stopped and never looked back. Took a bite of bratwurst for the first time. Not the greatest, but at least I tried. A family member blamed me for something I didn't even do. It irked me so bad that I walked this evening to blow off steam. I felt so guilty after doing it, but I decided instead of focusing on the guilt I felt from using my addiction, I would devise a tactic to combat hurt and anger the next time around.
June 26:  I'm actually enjoying church again. I can even sing, "I Surrender All" now! I wore a ring I got from my deceased grandma. It's of no monetary value at all, but the remembrance of her flooded my eyes with tears as I slipped it on. I wish she was here to share in my joy.
June 27:  Spending time with God is now my new morning priority instead of exercising.  Satan is trying to convince me that I should be further along in the recovery process than I am. I felt myself becoming depressed and thinking negatively and knew exactly what he was trying to do; trample me down before I've barely had time to stand. Absolutely not happening this time! I've fallen for this lame trick one too many times!!
June 28:  Received my new insulin pump today. I've had juvenile (Type 1) diabetes since I was 10 years old and the insulin pump helps to keep my blood sugars under better control than using injection or pen needles. The only issue that may arise is that I have to go back to carb counting in order for the pump to calculate my insulin needs properly. I really wanted to get away from reading food labels, but it looks like this is not an option.
To be continued…